CRS Barn Studio, 2622 N. Triphammer Road, Ithaca, NY 14850
607-257-2043
Moving Landscapes
Sunday, August 23 at 7:30 pm
CRS Barn Studio
2622 North Triphammer Road, Ithaca
Free admission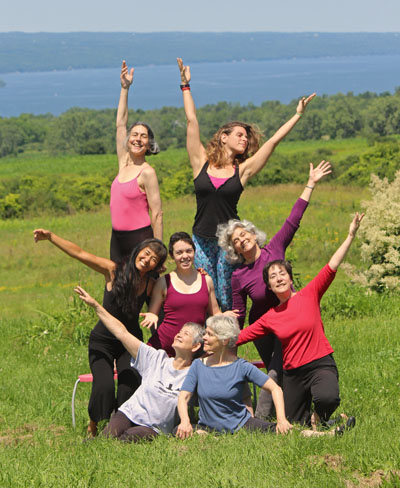 Dancers on the grounds of the CRS Barn Studio - photo: Steve Stull
Enjoy beautiful dance in a beautiful setting, at Moving Landscapes: An Evening of Dance and Music on Sunday, August 23 at 7:30 pm, at the CRS Barn Studio, 2622 North Triphammer Road in Ithaca. The performance will take place rain or shine. Admission is free, with donations accepted at the door.
The 8th annual Moving Landscapes performance continues the CRS Barn Studio tradition of bringing innovative dance and music partnerships to Ithaca audiences. Beginning with an outdoor prologue performed in the gardens, with a panoramic view of Cayuga Lake, the evening will include choreographed pieces in a variety of dance styles, as well as music-and-dance improvisations that engage audience members in a lively creative process.
A champagne reception following the performance will offer audience members a chance to meet the artists and even offer feedback on dance works in progress. Triphammer Arts programming is sponsored in part by the Community Arts Partnership of Tompkins County.
Dance: Marissa Biondolillo, SarahJane Burton, Amy Bush, Tina Christina-Price,
Rik Daniels, Karen Koyanagi DeLuca, Bernadette Fiocca, Jeanne Goddard,
Janice Kovar, Risa Lieberwitz, Lesley Tillotson
Music: Peter Chwazik, Steven Stull, John White
Songs for a Summer Night, An Evening of Arias and Duets
July 24, 25, 26, 2015 7:30 pm
for press release and print quality photos click here
Songs for a Summer Night features singers known for their performances with Cayuga Chamber Orchestra, Opera Ithaca, and the CRS Barn, and for their many appearances with orchestras and opera companies throughout the region and nationally. Artists scheduled to appear include: Steven Stull, David Neal, Zachary James, Rebecca Leistikow, Caitlin Mathes, Carol McAmis, Julia Ebner, Deborah Montgomery Cove, Fred Diengott, Tamara Acosta, Ivy Walz, Lynn Craver. Also performing will be pianists William Cowdery, Richard Montgomery, Diane Birr and John White, with Peter Chwazik on bass and guitar.
Tickets: Adults $20, Seniors $15, Students $10, Children 12 and under free (available at the door)
Photo: Dede Hatch
Pictured - David Neal, Rebecca Leistikow and Steve Stull (L-R)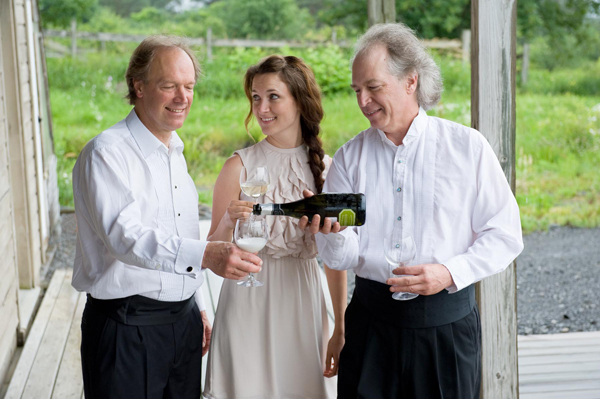 Future:
"Boyz in the Wood" by Grant Cooper; West Virginia Symphony Orchestra, Steve as the Wolf
performances in Charleston, Parkersburg and Morgantown, WV November 15-20, 2015
Steve narrates "How the Grinch Stole Christmas" with the Erie Chamber Orchestra, Mathew Kraemer conductor.
December 12, 2015
Mailing List
If you would like to added to our mailing list please contact us at the email below.