Triphammer Arts Inc. presents:

photo Steve Stull
A Midsummer Night's Dance
Tuesday, July 15, 2014 at 7:30pm
Dance and song collide and sparks fly as choreographer Jeanne Goddard and baritone Steven Stull bring their whimsical collaborative style to the Cornell stage. Also featuring Geneva choreographer Donna Davenport, musicians John White, Peter Chwazik, Richard Montgomery, and a cast of dancers from the Finger Lakes region, the evening of upbeat original work includes newly created dances and a restaging of "Service with a Smile," a tragic tale of car repair.
Tickets are free and will be available in the theater lobby starting at 6:30 p.m. on the day of the performance.
http://events.cornell.edu/event/a_midsummer_nights_dance
A Midsummer Night's Dance
Conceived and directed by Steven Stull and Jeanne Goddard
The Choreographers:
Donna Davenport, Jeanne Goddard, Tina Christina Price, Kaitley Wozer and Ingrid Dehler-Seter
The Musicians:
Peter Chwazik, bass and percussion; Richard Montgomery, piano;
Steven Stull, baritone; John White, piano
The Dancers:
Rik Daniels, Donna Davenport, Ingrid Dehler-Seter, Bernadette Fiocca
Jeanne Goddard, Holly Hibbert, Janice Kovar, Karen Koyanagi, Risa Lieberwitz, Tina Christina Price
Dana Robson, Yvette Rubio, Lesley Tillotson, Kaitley Wozer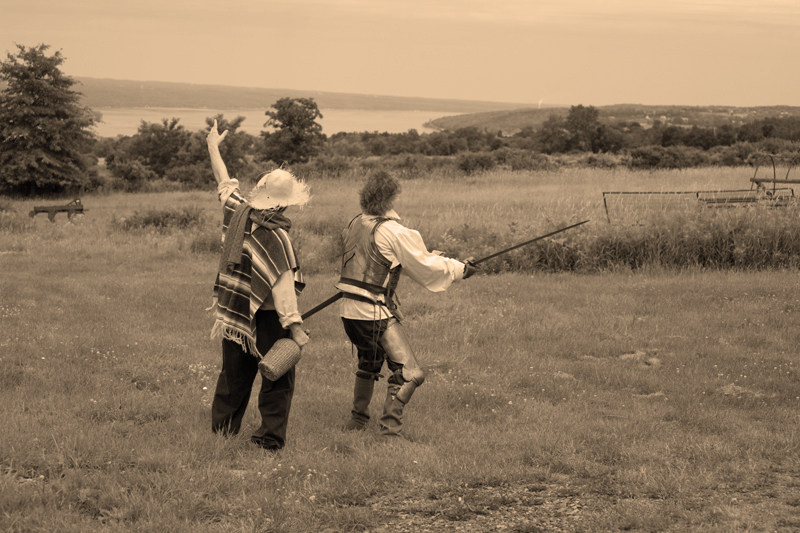 photo Dede Hatch
Don Quixote at the Wedding of Comacho
by Georg Phillip Telemann
August 1, 2, 3, 2014; 7:30 pm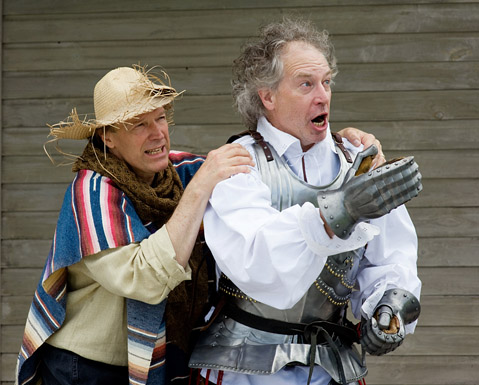 David Neal as Sancho and Steven Stull as Don Quixote - photo Dede Hatch
Friday-Saturday-Sunday, August 1-2-3, 7:30 pm at CRS Barn Studio, outdoors weather permitting.
Love trumps wealth (with some help from the mad knight) in Teleman's short and lively comic baroque opera. The cast features Steven Stull as Don Quixote, David Neal as Sancho, Ivy Walz as Grisostomo, Lynn Craver as Pedrillo, Rebecca Leistikow as Quiteria, Michael Roddy as Basilio, Jon English as Comacho. Richard Montgomery is the music director and is joined by Bill Cowdery at the keyboard. Tickets available at the door - weather permitting the performance will take place outdoors, in case of rain we will perform in the studio.
Tickets $20, $15 seniors, $10 students. cash or check at the door. Sales begin at 7 pm.
 
Moving Landscapes
Sunday, August 17, 2014; 7:30 pm
Our annual choreographers' showcase, at the CRS Barn Studio - on the lawn and in the studio.
Mailing List
If you would like to added to our mailing list please contact us at the email below.