Press Photos:
click on each photo for a high quality image
Mozart's "The Magic Flute"
July 29, 30, 31 and 8/1/10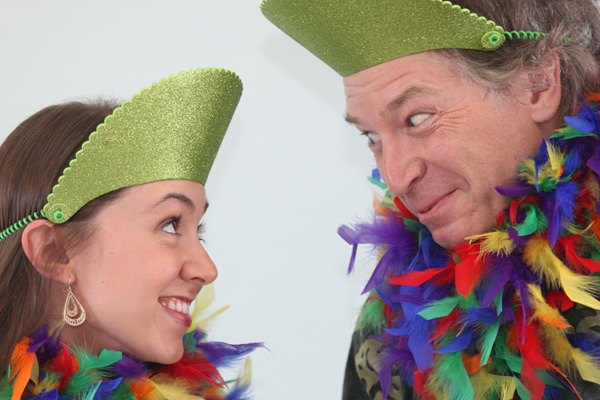 click for high resolution photo
FOR IMMEDIATE RELEASE: 12 July 2010
CONTACT: Steven Stull, Jeanne Goddard
crsbarn@lightlink.com
www.operacowpokes.com
607.257.2043
CRS Barn Studio, Ithaca Summer Venue, Celebrates 20 Years of Top Performances
The CRS Barn Studio, one of Ithaca's most attractive summer performance venues, will celebrate its 20th birthday this year with two special performance events: Mozart's The Magic Flute and Moving Landscapes III: New Choreography.
The celebration begins with a new production of Wolfgang Amadeus Mozart's "The Magic Flute", with performances Thursday through Sunday, July 29-August 1, at 7:30pm at the CRS Barn Studio, 2622 North Triphammer Road, Ithaca. Directed and choreographed by Steven Stull and Jeanne Goddard, this lively production features many well-known central New York singers, and takes full advantage of the beautiful outdoor setting -- the lake views, gardens and fields of the CRS Barn landscape. Ticket prices for The Magic Flute are $20, $15, and $10. Then on Saturday, August 14 at 7:30 pm Moving Landscapes III: New Choreography, a choreographers' showcase, will present a variety of new work by dance artists from around the Finger Lakes in an event that includes both outdoor and indoor explorations of space, time, and energy. This informal, free performance gives audience members a chance to interact with the artists and even offer feedback on dance works in progress. All performances will take place rain or shine, and tickets are available at the door. [Ticket prices for "The Magic Flute" are $20, $15, and $10.]
The story of "The Magic Flute" draws our imagination into a fantasy world. Audiences will recognize timeless fairy tale themes such as mysterious talismans, an epic clash between supernatural beings, and a hero's quest to defeat the forces of evil and win his true love, all set to Mozart's beautiful music. Originally composed for the popular theater, The Magic Flute intersperses love duets and dramatic arias with action scenes and comic dialogue. Join us and see how the story has been updated with contemporary and local references for the CRS Barn production!
To bring Mozart's music to life, the CRS Barn Studio is pleased to welcome a gifted cast of singers, all with central New York connections. Tenor Todd Geer is the brave Prince Tamino, with Steven Stull as his less gentlemanly sidekick, Papageno. After several years with Tri-Cities Opera, Todd has appeared with San Francisco Opera, Chicago Lyric Opera, and numerous other national and international companies, while Steven has been singing regularly with Syracuse Opera, Syracuse Symphony, and West Virginia Symphony. The powerful priest Sarastro is sung by David Neal, who has performed with Tri-Cities and Syracuse Opera companies and created the "Arts at Grace" series in Cortland. As Sarastro's nemesis, Deborah Montgomery Cove brings her national and international credits to opera's most famous coloratura role, the Queen of the Night. Other well-known Ithaca singers complete the cast: Amanda DeMaris as Papagena, Thom Baker as Monastatos, and Joanna Manring as Pamina. Accompanists are Richard Montgomery and William Cowdery.
For two decades the CRS Barn Studio has offered high quality, audience-friendly music and dance productions both outdoors and indoors at the CRS Growers organic vegetable farm on Triphammer Road. The CRS Barn Studio is known for their originally scripted productions and for their unique stagings of favorite opera and musical theatre pieces. Recent events include the baroque revue "The Handel Project" (2005), last summer's high-energy production of "Pirates of Penzance", and the now legendary "Opera Cowpokes Alive", featuring classical singers, a Western swing band, and an ensemble of modern dancers, with concept and script by artistic directors Steven Stull and Jeanne Goddard. Goddard and Stull value and support local artists and have consistently brought together dancers and musicians from Ithaca, Cortland, Binghamton, Geneva, and Syracuse. Audiences return again and again for the relaxed atmosphere, the quality of the performances, and the sensational sunset views of Cayuga Lake.
Steven Stull and Jeanne Goddard founded the CRS Barn Studio performance space in 1990. Both artists have over 25 years' experience performing, writing, directing, and producing music and dance events in traditional and non-traditional venues. Stull holds degrees in vocal performance from Oberlin College Conservatory and the Eastman School of Music, and has collaborated with directors and choreographers on a wide range of projects. Goddard came of age in the avant-garde dance world of the 1970's, trained and performed with Bill T. Jones/Arnie Zane and many other choreographers, and has run the dance program at Wells College since 1987.
The Magic Flute
July 29-August 1, 7:30pm
CRS Barn Studio
2622 North Triphammer Road, Ithaca
Tickets: Adults $20, Seniors $15, Students $10, Children 12 and under free
Moving Landscapes III: New Choreography
Saturday, August 14 at 7:30 pm
CRS Barn Studio
2622 North Triphammer Road, Ithaca
Free