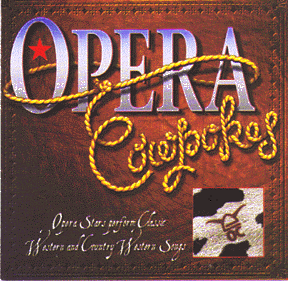 Opera Cowpokes cover designed by Gene Czebiniak
Three years in the making, Opera Cowpokes features nine opera stars performing western and country/western songs made famous by Gene Autry, Roy Rogers and the Sons of the Pioneers, as well as Patsy Cline, Patsy Montana, Roger Miller and others. Gathered by singer/producer Steven Stull, this impressive collection of singers has performed all over the world with opera companies such as: the Metropolitan Opera, English National Opera, San Francisco Opera, Deutsche Opera Berlin, New York City Opera and Glimmerglass Opera.
Opera Cowpokes
was conceived and produced by singer/producer
Steven Stull
and also includes:
Phyllis Pancella
,
Stephen Powell
Dean Elzinga
Raul Melo
Peter Sicilian
,
Timothy LeFebvre
Todd Geer
Richard McKee.
In what is thought to be the world's first opera/ country-western crossover album, Stull has paired these versatile singers with instrumentalists from the symphonic, jazz and western swing traditions. Over 40 supporting musicians provide a wide range of styles from big "Hollywood" arrangements to simpler guitar and fiddle based accompaniments. Several of the twenty two songs include operatic quotes cleverly woven into the musical fabric by the talents of arranger/ composer Mark Simon.
Instrumentalists include:
bassist Peter Chwazik
, guitarists
Dave Davies
and Chris Jennings, fiddlers
Eric Aceto
and
Laurie Hart
, pedal steel guitarist Bob Carlucci and the Opera Cowpokes Orchestra and Chorus led by Bill Pelto.
Jeanne Goddard is the official choreographer of Opera Cowpokes